DIATEX develops fabrics and textile complexes with permanent virucidal properties
A 5th wave of Covid is threatening our country and you are looking for a textile solution with an effective virucidal action for the realization of walls, booths, barrier zones or protective partitions?
In order to provide optimal and long-lasting sanitary protection, our R&D department has developed fabrics or textile complexes with effective virucidal properties and multiple applications [PERMANENT VIRUCIDE approval (PV MSL J002907 – 06/2021) Viral load reduction Human Coronavirus 229E after 2h (25°C): > 98% on the M838CSAB quality].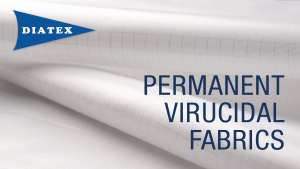 These virucidal products are the direct result of the evolution of our flagship products and therefore retain all their other technical properties:

RIPSTOP fabric, fireproof (M1), 100g/m², available in 160 cm or large width on request (310cm in white, 300cm in colour) in its virucide version. [Ref. M838CSAB160 and M838CSAB310]
Available on request as a multi-layer complex (3) to provide thermal, acoustic and mechanical insulation AND sanitary protection. This article exists in 160 cm (US assembly) and 285 cm (seam assembly) versions.
A quote? Need more information ? Don't hesitate to contact us!